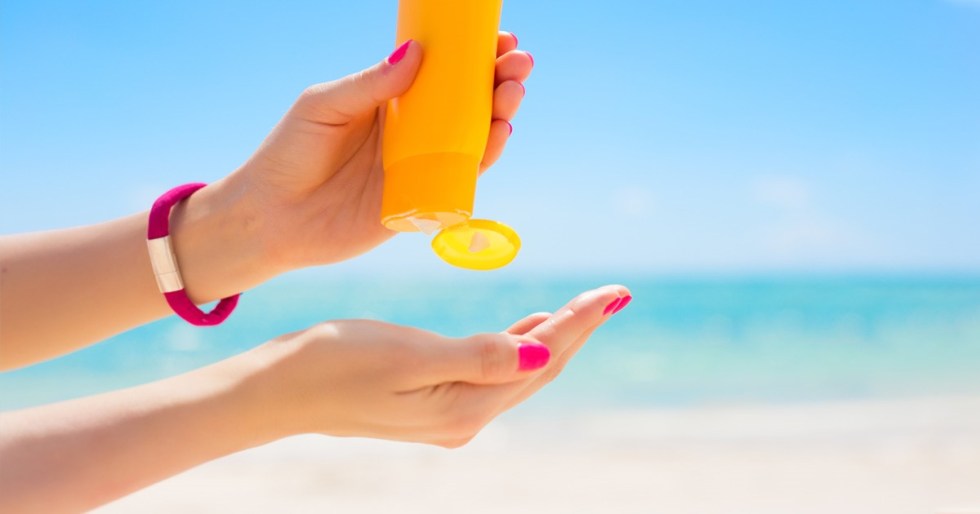 We've come a long way since the days of slathering on greasy veterinary-grade petrolatum, the main ingredient in the first sunscreen. Yet in the 75 years since World War II pilot Benjamin Green invented his rudimentary protection against ultraviolet (UV) rays, sunscreen hasn't always evolved for the better. Today, countless products have flooded the market, all with varying claims for affecting your health.
It's not just that you need to be wary of the side effects of rogue chemicals and compounds. If the sunscreen you're using can't do its job, it's putting you at risk for sun damage. More than 3 million Americans develop skin cancer every year, making it the most common cancer in the United States. If you want to help reduce your risk, it helps to know the truth behind sun protection. Here are the facts about five common myths to help you choose how to reduce your risk.
Myth: A sunburn is the only sign of skin damage.
The truth: The sun sends out two kinds of rays: short-wave ultraviolet B (UVB) and long-wave ultraviolet A (UVA). UVB rays are responsible for ruining a summer day with a sunburn. That's why many sunscreens focus on UVB rays, but that leaves UVA rays free to penetrate the skin and put us at higher risk for developing cancer.
UVA rays go deeper than UVB light, often causing long-term damage, including wrinkles, and potentially triggering changes on a cellular level that may lead to cancer. When you're shopping for sunscreen, look for one that's specifically labeled for broad-spectrum protection against UVA and UVB rays. A good rule of thumb is to look for the following ingredients: avobenzone, ecamsule, oxybenzone, titanium dioxide and zinc oxide. If you are unsure if your sunscreen is blocking harmful rays, check with a doctor.
Myth: Sunscreen and sunblock mean the same thing.
The truth: In practice, sunscreen and sunblock mean exactly what they say they do. Sunscreen has chemicals that permeate the skin and absorb harmful UV rays before they damage the dermal layer. Sunblock, which is a physical or mineral block, has active mineral ingredients such as titanium dioxide or zinc oxide that create a layer on top of the skin to deflect harmful UV rays before they hit the body. Both are designed to protect you from the sun as long as they guard against UVA and UVB rays. Consult a doctor to determine how and when to use sunscreen for your skin type and lifestyle.
Myth: Double the SPF, double the protection.
The truth: SPF, which stands for sun protection factor, only measures how well a sunscreen protects against UVB rays. There is no standard measure for UVA protection, which is why it's so important to look for broad-spectrum coverage. Within SPF, a higher number is only providing you marginally better coverage than a lower one. A sunscreen with 15 SPF, for example, will protect your skin 15 times longer than it takes your unprotected skin to begin turning red. So choose the SPF according to how sensitive your skin is to the sun, and how long you plan to be outside.
Myth: A light tan is not harmful.
The truth: It's tempting to go light on SPF in an effort to get a "glow," or at least proof that you were on vacation. But can you tan safely without risking cancer? "The answer is no," says Stephen Lynch, MD, Vice Chief of Staff and Primary Care/Intake Physician at Cancer Treatment Centers of America (CTCA) Phoenix. "If you're exposed to the sun, there is potential for damage." To help keep yourself protected, reapply sunscreen every two hours regardless of the SPF.
Myth: You can use the same bottle of sunscreen until it runs out.
The truth: You can keep using the same bottle, but there's a limit to its usefulness. The shelf life for your standard drugstore bottle of sunscreen is three years—the amount of time the product is engineered to remain at its original strength. After that, it's time to toss it. To get the protection advertised, throw away sunscreen that's surpassed its expiration date. If your sunscreen doesn't have a printed expiration date, write the date you purchased it on the bottle and be sure to toss it at the three-year mark.
Yes, you have lots of options, colors, scents and styles of sunscreen. But at the end of the day, it's important to find one designed to protect your skin. You don't have to make the decision alone.
Tips to reduce your risk of skin cancer this summer
Did you know that skin cancer is the most common type of cancer in the United States? It's important to remember that overexposure to the sun may have harmful side effects, including increasing your risk of skin cancer. Although some skin cancers are slow to spread and often respond to treatment, others are difficult to treat and may have lasting, even lethal consequences. Understanding the risks is the first step in making informed lifestyle changes that may help you lower your chances of developing skin cancer.
What are the risks?
• UV exposure: The greatest risk for skin cancer comes from exposure to ultraviolet (UV) light, including sunlight, sunlamps and tanning beds. The greater the exposure, the greater the risk. Interestingly, although the rates of melanoma are higher in the Southeast, where the sun is strong, some of the highest melanoma rates in the United States are found in the Northwest. This should be a stark reminder that overcast skies do not protect against UV rays, and protecting your skin even on cloudy days is critical.
• Fair skin: The American Cancer Society reports that melanoma is more than 20 times more common in Caucasians than African Americans. The risk is also higher in individuals with blond or red hair, blue or green eyes, or skin that burns or freckles easily.
• Age: Although skin cancer risk increases as you age, melanoma is one of the most common cancers in young adults, especially women. People who have had at least one severe (blistering) sunburn as a child, or used sunlamps or tanning beds before age 30, also have an increased risk.
Because it is virtually impossible to go through life with no sun exposure, everyone is at risk. But there are several steps you can take to protect yourself from the sun. Here are four easy ways you can help reduce your chances of developing skin cancer.
Is there such a thing as a safe suntan?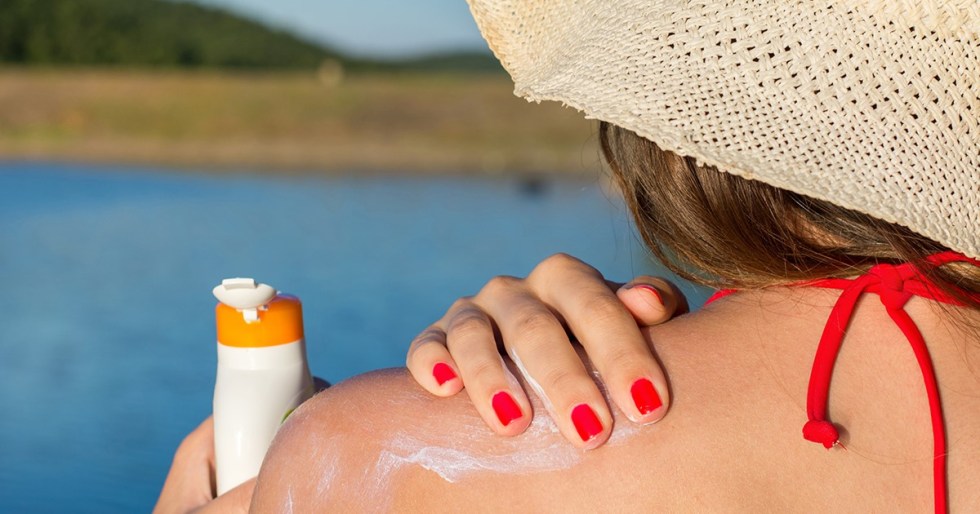 With summertime comes warm days in the sun, baseball games, barbecues and lazy days at the beach. And, for many, it's the time for a "healthy" summer tan. But is there a way to safely tan your skin without exposing it to the damage that may lead to skin cancer? If you're exposed to the sun, there is potential for damage. But there are steps that may help prevent burns and protect the skin from excessive damage.
Skin tans when cells just below the surface, called melanocytes, are exposed to ultraviolet (UV) light and produce melanin, a pigment that darkens skin. Melanin absorbs UV light and helps protect the skin from burning. But too much UV light may do serious damage. UV light penetrates deeply and may cause premature aging of the skin, eye damage and harm to the DNA of skin cells that may lead to basal cell or squamous cell carcinomas, the two most common types of skin cells. Worse, damaged melanocytes may develop into melanoma, which accounts for two percent of all skin cancers, but more than 90 percent of skin cancer deaths.
Ultraviolet rays are difficult to avoid. They have the power to bounce off water, snow and sand, and penetrate windows, windshields and clothing. Children, young adults and people with fair skin are at greater risk of cell damage from UV light. "In general, the lighter your skin, the more probable you are to burn," says Stephen Lynch, MD, Vice Chief of Staff and Primary Care/Intake Physician at Cancer Treatment Centers of America (CTCA) Phoenix. "Melanin, which causes darker skin tones, has a protective effect. Having darker skin, however, has been shown to lead to delayed diagnoses in some types of skin cancer. So, everyone needs to reduce skin damage from the sun. " To learn more about how the Skin Cancer Foundation recommendations to protect your skin from the damage caused by UV light, click here.
Cancer Treatment Centers of America (CTCA) is a comprehensive cancer care network of hospitals and outpatient care centers in Atlanta, Chicago, Philadelphia, Phoenix and Tulsa. Specializing in the treatment of adult cancer patients, CTCA offers an integrative approach to care that combines surgery, radiation, chemotherapy, and immunotherapy with advancements in precision cancer treatment and supportive therapies designed to manage side effects and enhance quality of life both during and after treatment. Read more here about its expert clinical teams, innovative treatment options, and resources for those fighting cancer. If you, or someone you know has been diagnosed with cancer, please call 1-800-227-3207.
Members of the editorial and news staff of the Las Vegas Review-Journal were not involved in the creation of this content.