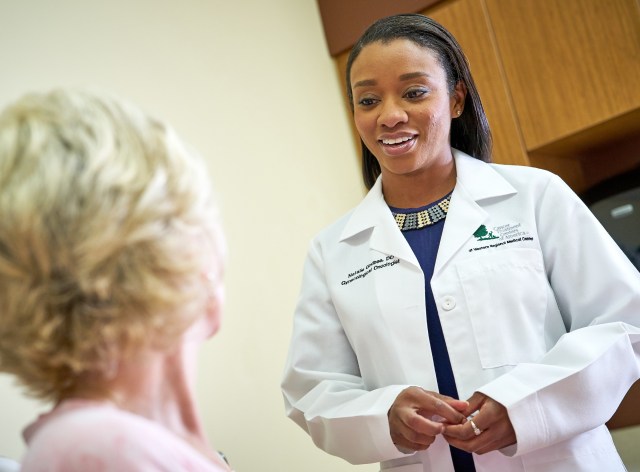 Recently, the federal Food and Drug Administration quietly announced something monumental: it approved Gardasil 9, more commonly known as the HPV vaccine, for men and women between the ages 27 through 45.  Previously, the vaccine was only available for patients up to age 26.
I'm a gynecologic oncologist, and I'm choosing to get the HPV vaccine now.
Dr Godbee is Board certified in Obstetrics and Gynecology from the American College of Osteopathic Obstetricians and Gynecologists, completing her Fellowship in Gynecologic Oncology from Wellspan York Hospital, York, PA.
Here's why: in my work as an oncologist ,at Cancer Treatment Centers of America (CTCA) in Arizona, I spend every day helping women who have been diagnosed with gynecologic cancers.  And one of the most devastating parts of my job is knowing that for so many of them, a simple vaccine could have prevented their cancer from forming. The Centers for Disease Control has stated that receiving the vaccine prior to becoming infected with the HPV types it covers has the potential to prevent more than 90 percent of HPV-related cancers – or 31,200 cases each year – from ever developing.
Cervical cancer is almost exclusively caused by a human papillomavirus (HPV) infection, however, not all women with an HPV infection will develop cervical cancer. Click here to learn more about cervical cancer and its risk factors.
The vast majority of Americans have embraced vaccinations – including routine flu shots – as effective tools to maintaining personal and public health. Yet, when it comes to the human papillomavirus (HPV) vaccination, many children and young adults are going without.  And to date, there has been very little education to adults in the new expanded age range about why they should get the Gardasil 9 vaccine.
Simply put, the consequences can be serious, or even life-threatening.
This is leading top oncologists from across the country, myself included, to redouble efforts in spreading the word about the vaccine's life-saving impacts.
The HPV vaccine is an effective, safe and affordable cancer-prevention tool that is proven to save lives and significantly reduce the risks of an array of cancers. HPV is a common sexually transmitted disease that may or may not cause symptoms.
However, some strains of the virus can cause cancer in females and males. It's important for everyone within the age guidelines – both boys and girls, and men and women up to age 45 – to get vaccinated. Gardasil 9 – which helps prevent HPV-related cervical, vulvar, vaginal and anal cancers – can be given today to children as young as 9.   And even though children in particular may not currently be at risk for HPV, their risk increases as they age and potentially become sexually active. Exposure can happen through any type of genital contact with someone who has HPV.
There is no cure for HPV, so prevention truly is the key. That's why I'm choosing – as a woman and as a cancer treatment professional – to vaccinate myself, and to encourage both parents of children and young adults and adults up to age 45 to do so as well.
 Dr Natalie Godbee is a gynecologic oncologist at CTCA in Arizona
 Why boys and men need to also get the HPV vaccine
 Just because men cannot get cervical cancer doesn't mean they shouldn't worry about the disease. Especially considering the role they play in spreading the virus that causes it. A recent study shows that 25 percent of men may carry an aggressive strain of the human papillomavirus (HPV), the virus linked to virtually all cases of cervical cancer. The study of men 18-59 years old, conducted by researchers at Womack Army Medical Center in Fort Bragg, N.C., also concluded that:
More than 45 percent of men carry some strain of HPV.
More than 15 percent of vaccine-eligible men carry at least one aggressive strain of HPV.
Less than 11 percent of men who are candidates for the HPV vaccine have actually received it.
The Centers for Disease Control and Prevention (CDC) recommends that boys and girls get the HPV vaccine as part of a routine inoculation when they are 11 or 12 years old. Last year, the CDC reduced the recommended vaccination schedule from three doses to two, six to 12 months apart.
Read more here about Raising awareness for boys and men
Cancer screenings: Who should be screened and what cancers can be detected?
Breast self-exams, Pap smears, PSA screenings, genetic tests, colonoscopies—everywhere you turn, it seems, new recommendations are coming out about screening tests for various cancers. The information overload and sometimes-contradicting guidelines have many people confused: Should I get screened? If so, why, when and how often? The answers aren't simple, or always black and white, but knowing which screenings are recommended for which cancers, and understanding your risks, is the first step in making sense of the confusion—and arming yourself with information you need to know about catching cancer early, when more options are more likely available to treat it or prevent it altogether.
Given all the talk about cancer prevention these days, it may surprise you to know that screening tests have been developed for some but not all cancers, and a variety of considerations must be weighed by both doctor and patient when determining whether screening for a particular cancer type is warranted. Risk factors such as lifestyle habits, family history, comorbidities (other serious medical conditions, such as diabetes or heart disease) and environmental exposures all play pivotal roles in the decision-making process.
Cancer screenings are of increasing importance, especially as cancer diagnoses continue to rise. The U.S. Centers for Disease Control and Prevention (CDC) estimates that between 2010 and 2020, 24 percent more new cancer cases will be diagnosed in men (rising to 1 million a year) and 21 percent more new cases will be diagnosed in women (rising to more than 900,000 a year). At the same time, though, National Cancer Institute figures show that survival rates are at an all-time high—with nearly 14.5 million survivors living in the United States in 2014. That number is projected to reach 19 million by 2024. Cancer-related deaths also continue to drop steadily, falling 26 percent between 1991 and 2015. Many experts attribute the improved outcomes to treatment advances, prevention awareness efforts—and screenings designed to detect cancer in the early stages, when interventions tend to have the most impact.
So which cancers should you be screened for, and when? It depends. Click here for your guide to the three R's of cancer screenings—risk factors, recommendations and rationale—by cancer type. We've compiled a list based on the recommendations of the leading cancer organizations—the American Cancer Society (ACS), the U.S. Preventive Services Task Force (USPSTF), the American College of Obstetricians and Gynecologists (ACOG) and the Society of Gynecologic Oncology (SGO).
Cancer Treatment Centers of America (CTCA) is a comprehensive cancer care network of hospitals and outpatient care centers in Atlanta, Chicago, Philadelphia, Phoenix and Tulsa. Specializing in the treatment of adult cancer patients, CTCA offers an integrative approach to care that combines surgery, radiation, chemotherapy, and immunotherapy with advancements in precision cancer treatment and supportive therapies designed to manage side effects and enhance quality of life both during and after treatment. Read more here about its expert clinical teams, innovative treatment options, and resources for those fighting cancer. If you, or someone you know has been diagnosed with cancer, please call 1-800-227-3207.
Members of the editorial and news staff of the Las Vegas Review-Journal were not involved in the creation of this content.