Las Vegas construction employment remains far below peaks
Updated April 27, 2018 - 6:12 pm
Construction has been picking up all over Las Vegas, with investors building subdivisions, retail centers, warehouses, apartment complexes and more.
But if you're worried that another bubble is inflating, it's worth noting that Las Vegas' construction industry is still nowhere near as big as it was in the fast-paced, easy-money days of the mid-2000s.
Some 63,900 people worked in construction in Southern Nevada last month. Employment has nearly doubled since early 2012 but is still far below the peak of 112,000 in mid-2006, according to data from the Associated General Contractors of America.
It's like other aspects of Las Vegas' housing market — a rapid increase followed by a steep plunge and then a steady trek back, with plenty of distance to go before reaching prior peaks.
And it's for all the same reasons. Las Vegas' bubble was perhaps the most bloated in America, and its crash was perhaps the most severe, making the climb out of the gutter and back to previous highs especially long.
Construction boomed so much here that Las Vegas "overshot by a wide margin the housing that it needed," AGC chief economist Ken Simonson told me earlier this month, for another story about today's market versus the bubble.
He noted that Las Vegas construction employment tripled from 1993 to 2006, an "extraordinary" rate even as other cities experienced a boom. In other markets, the peaks were "more of a molehill," Simonson said, but in Las Vegas, it was "a rocky mountain."
And, he pointed out, construction was pummeled far worse locally than it was nationally during the Great Recession.
U.S. construction employment shrank by 30 percent after hitting its peak in 2006, he said, while in Las Vegas, it all but evaporated, shriveling by around 70 percent after the market crashed.
At the current growth rate, it would take another decade for Las Vegas to reach peak construction employment again, Simonson said.
"It's hard for me to imagine such a surge of population that you would need to build housing, retail, schools and other things on the scale that was happening in 2005," he said.
Of course, all of this doesn't mean that another bubble won't inflate, or that things aren't overheated now. Las Vegas home prices are rising at one of the fastest rates in the country, in no small part because inventory levels have plunged, increasing competition for listings.
But it's always worth remembering just how crazy Las Vegas' market became last decade, when practically anyone could get a mortgage, buyers camped out at construction sites and everyone wanted to build condo towers; how horrible it got during the recession, when foreclosures swept through the valley and developers abandoned projects all over town; and where it is today.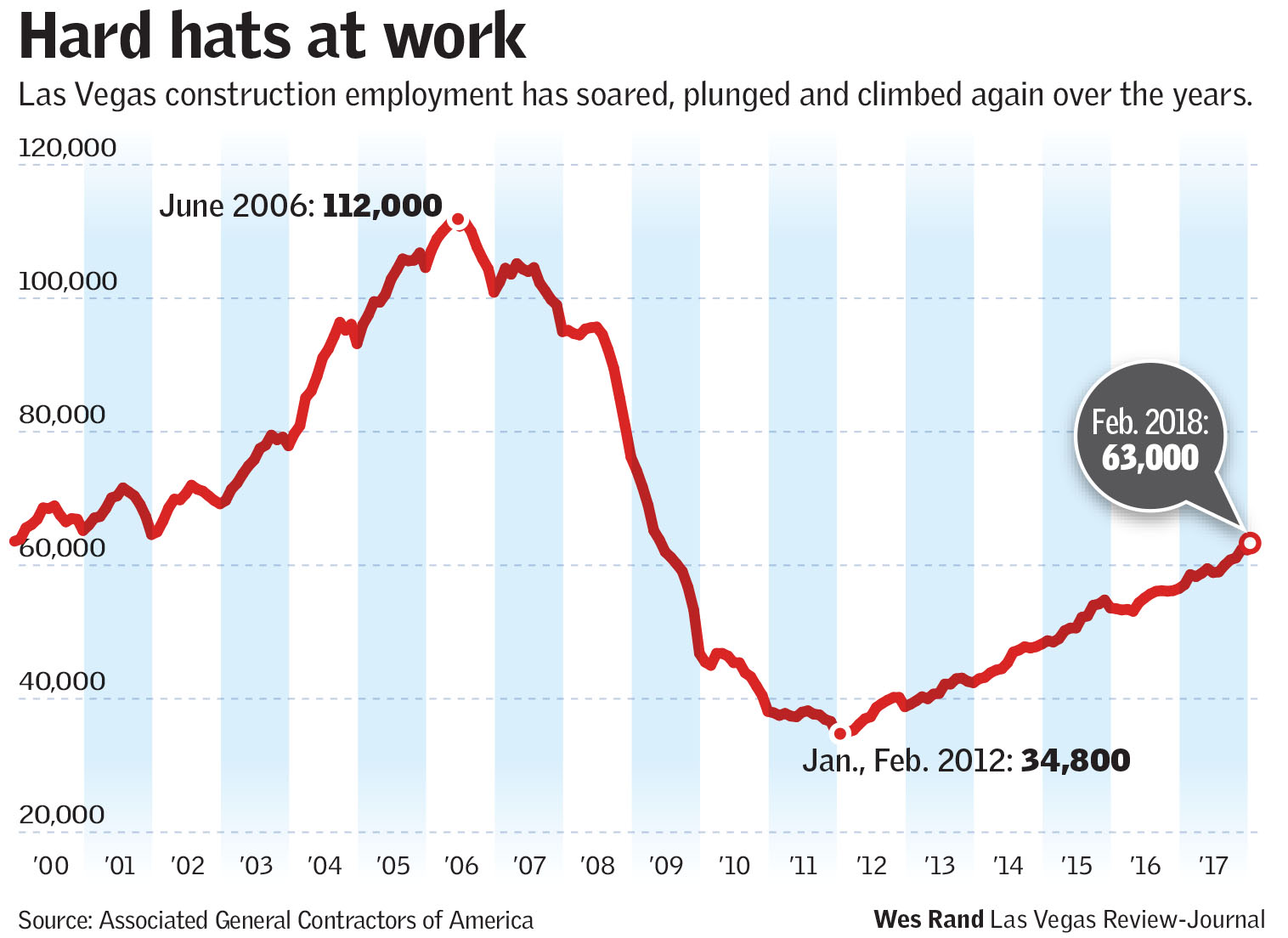 To take two examples: resale prices and homebuilders' sales totals.
The median sales price of previously owned single-family homes — the bulk of the market — was $280,000 last month. That's more than doubled since hitting bottom and up 16 percent year-over-year, but still below the peak of $315,000 in mid-2006, according to Greater Las Vegas Association of Realtors data.
Builders, meanwhile, closed 9,400 sales in Clark County last year, according to Home Builders Research. It was the highest tally in almost a decade — but still nowhere near the peak of almost 39,000 in 2005 alone.
Contact Eli Segall at esegall@reviewjournal.com or 702-383-0342. Follow @eli_segall on Twitter.