Las Vegas' mortgage-delinquency rate lower than US average
Updated May 18, 2018 - 11:39 pm
Las Vegas, as we know, was the foreclosure capital of America during the recession. Job losses soared as borrowers throughout the valley fell behind on their mortgage and lost their home to lenders.
But in a break from recent history, Las Vegas is showing signs that its mortgage woes, at least in one way, are not as bad as they are nationally.
Locally, 4.3 percent of borrowers were at least 30 days late on their payments in February, compared to 4.8 percent nationally. It was the seventh consecutive month that Las Vegas' mortgage-delinquency rate was lower than the U.S. average, according to figures from housing tracker CoreLogic.
How bad was it before? At the depths of the recession, a peak of 25 percent of local borrowers were at least a month behind on their payments, versus a peak of 12 percent nationally.
The change comes as Las Vegas' economy continues to find stronger footing and is another sign that the valley's housing market, while by no means problem-free, is faring a lot better than it used to.
Las Vegas went through "a really bad cycle, but it's come through the other end," CoreLogic chief economist Frank Nothaft said.
He noted that Southern Nevada was dealt a "double whammy" of skyrocketing unemployment and plunging home prices. Today, prices are rising at one of the fastest rates in the country, employment rolls are growing, and, Nothaft said, buyers have steady income, letting them make their payments.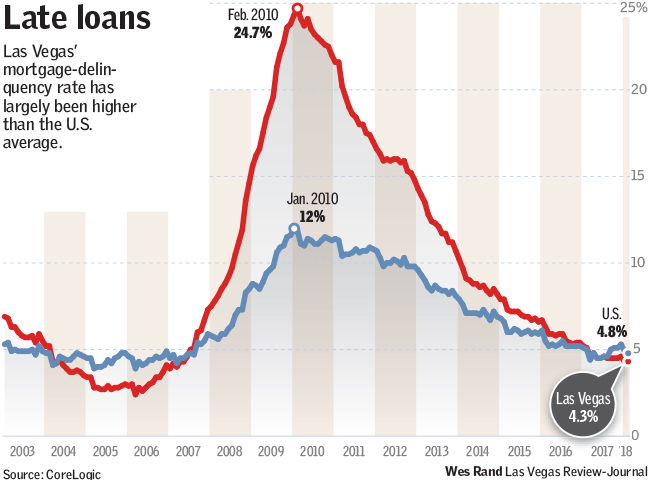 Even if homeowners have financial problems, he added, the market is strong enough so they can sell their house, letting them avoid foreclosure.
Still, Las Vegas isn't "totally out of the woods," he pointed out.
Its serious delinquency rate — the share of borrowers at least 90 days late on their mortgage — was 2.2 percent in February, a touch higher than the U.S. average of 2.1 percent.
Nothaft said he follows that gauge more closely. Homeowners might miss one payment because their lives are hectic, he said, but "it's not an accident" if they skip three in a row.
Also, Las Vegas' underwater rate has dropped significantly over the years — at one point, it seemed practically anyone with a mortgage was upside down — but it's still well above the national average.
About 9.2 percent of local borrowers were underwater as of December, compared to around 4.9 percent nationally, according to the most recent numbers from CoreLogic.
The cost of money
Speaking of home loans, interest rates reached their highest level in years this week.
The average rate on a 30-year mortgage hit 4.61 percent, matching the highest tally since 2011, according to mortgage-finance giant Freddie Mac.
Higher rates mean bigger monthly payments, which could scare buyers from pulling the trigger on a purchase or push them to get something cheaper – assuming they can find one, a not-so-easy-task today amid Las Vegas' plunging availability.
Despite the climbing rates, they were much higher in years past. Just look at the early 1980s, when the average rate for two straight years was above 16 percent.
Contact Eli Segall at esegall@reviewjournal.com or 702-383-0342. Follow @eli_segall on Twitter.