New Hard Rock Hotel owners plan to overhaul the Las Vegas property
Updated April 6, 2018 - 6:14 pm
When Virgin Group founder Richard Branson was at the Hard Rock Hotel last week to announce the resort's purchase, yours truly asked during a Q&A what it sold for and who the majority owner is.
"We're not going to make this a boring business talk," Branson replied. "But I'm sure somebody can let you know some other time."
Well, he was right. And while the flamboyant British billionaire captured the spotlight for the deal, much of the new ownership, in fact, hails from Canada.
The Hard Rock — whose sales price wasn't announced at the party-like news conference March 30 or in Virgin's press release — traded for about $500 million, a source familiar with the matter said this week.
The purchase was backed by a $200 million loan from JPMorgan Chase Bank, property records indicate.
The buyers paid a lot less for the resort than prior owners. The Hard Rock opened in 1995, and developer Peter Morton reached a deal in 2006, during the bubble years, to sell it for $770 million in cash.
Plans now call for the Hard Rock, a mile east of the Strip at 4455 Paradise Road, to be rebranded as a Virgin property by the end of 2019. Its new CEO, Richard "Boz" Bosworth, said last week that the owners will spend "hundreds of millions of dollars" overhauling the hotel-casino, which will keep the Hard Rock name until the changeover is finished.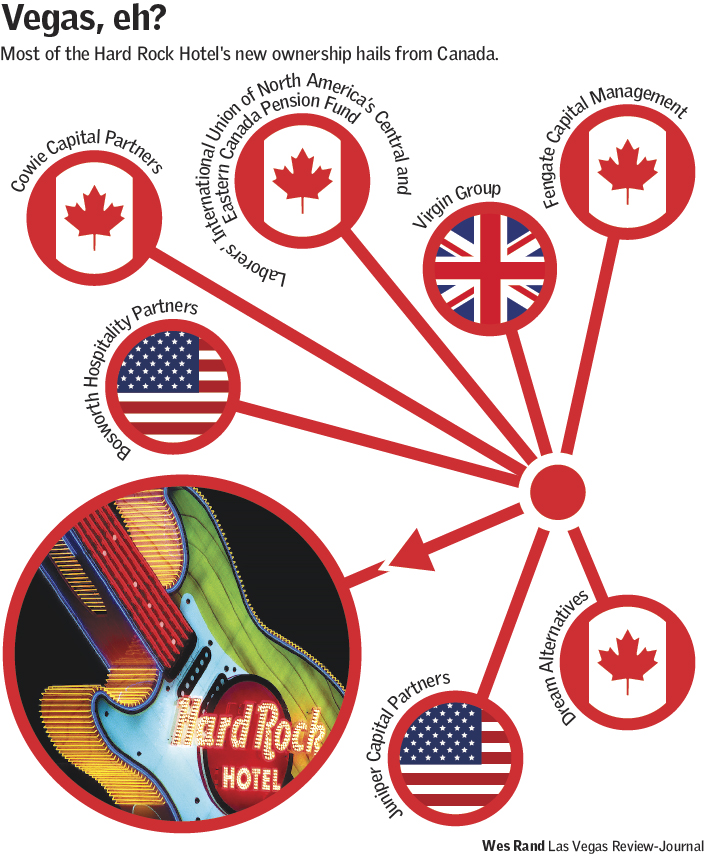 The buyers include Branson's Virgin Hotels unit; Los Angeles-based Juniper Capital Partners; Bosworth, founder of Las Vegas' Bosworth Hospitality Partners; Toronto's Dream Alternatives, which announced this week that it spent $29 million for a roughly 10 percent stake; and Toronto's Cowie Capital Partners.
Other investors include the Laborers' (or Labourers', if you're up north) International Union of North America's central and eastern Canada pension fund, based in Ontario, and Toronto's Fengate Capital Management, which said it "partnered" on the deal and is managing its investment on behalf of LiUNA.
One of the American firms also has Canadian ties. Juniper founder Jay Wolf is originally from Toronto, said Joe Mancinelli, chair of the LiUNA pension fund.
Even the seller, Brookfield Asset Management, has a Toronto headquarters.
Canadians are no strangers to Las Vegas. They snapped up low-priced houses here after the market crashed and are the largest source of foreign tourism.
Some 1.44 million Canadians visited in 2016, making up 25 percent of all international visitors, said Las Vegas Convention and Visitors Authority spokeswoman Maria Phelan.
LiUNA represents construction workers and other laborers, and the pension fund overseen by Mancinelli has about $5.5 billion (American) in assets.
It's the largest single shareholder in the Hard Rock, having put in more than $100 million, he said.
According to Mancinelli, it costs more than $1 million per unit to build a hotel in Las Vegas, so the 1,500-room Hard Rock seemed "like a pretty good deal."
Still, he said, "What made the deal sexier was the branding of it. The Virgin brand is a pretty powerful brand."
Virgin Hotels, Fengate, Cowie, Dream and Juniper's managing partners did not respond to requests for comment Friday.
Bosworth also did not return a call and an email seeking comment, but a PR rep sent a statement from him that said: "I am not at liberty to disclose the property structure or discuss details surrounding the transaction."
JPMorgan Chase "wouldn't be able to comment," spokeswoman Maura Cordova said.
A Brookfield representative, Sherif El-Azzazi, said he "can confirm the sale did occur," but regarding the price and the buyers, "we have no comment to make at this time."
Meanwhile, Canadians may have piled in to buy the hotel, but in case you're wondering, there's no word on whether the Hard Rock will get a Tim Hortons anytime soon.
Contact Eli Segall at esegall@reviewjournal.com or 702-383-0342. Follow @eli_segall on Twitter.