New hotel coming near Las Vegas Convention Center
A new hotel is set to come out of the ground near the Las Vegas Convention Center, with an apartment complex to follow in a few years.
DG Development Corp. founder Daniel Grimm plans to build a six-story, dual-branded Hampton Inn & Suites and Home2 Suites just south of the convention center. Site work is underway.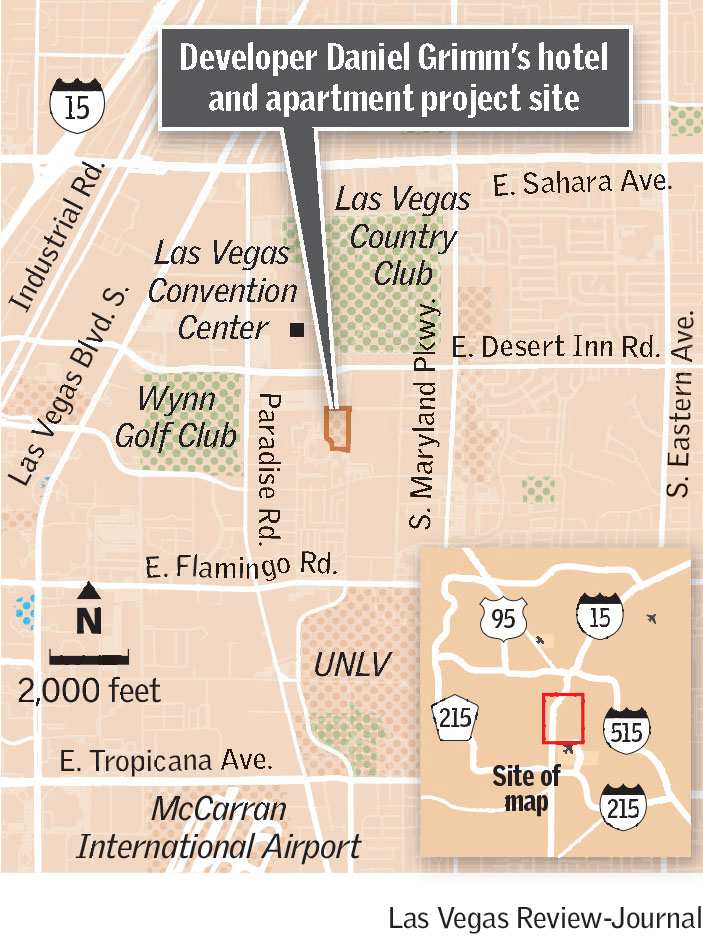 The hotel, at the southwest corner of Swenson Street and Sierra Vista Drive, would feature 150 rooms for Hampton Inn and 100 rooms for Home2 Suites, all under one roof, as well as a three-level garage. Guests would share common areas and amenities, including the lobby, lounge and pool, Grimm said.
He aims to finish the 2.5-acre, $55 million project in March 2020 and open for business the following month.
The project comes as the Las Vegas Convention and Visitors Authority gets underway on its $1.4 billion expansion and renovation of the convention center, a massive undertaking that could boost visitor totals and demand for nearby hotel rooms.
Grimm said Home2 Suites offers extended-stay accommodations, including kitchenettes, that could draw guests who stay three or four days before and after a convention to set up and break down booths. The Hampton Inn, he said, would target conventioneers and others who need a room for just a few days.
"That's the theory," he said.
Dallas-based Hall Structured Finance issued a $41.7 million construction loan for the hotel last week, spokeswoman Ellen Burger said.
Grimm said that when the hotel opens, he aims to break ground one to two months later on a 300-unit apartment complex next door.
He figured it would take two years to build the 6-acre, $60 million rental project.
Grimm acquired the hotel and apartment site in 2011. The Clark County Planning Commission approved project plans last year.
Contact Eli Segall at esegall@reviewjournal.com or 702-383-0342. Follow @eli_segall on Twitter.