10 best things to do in Las Vegas on Super Bowl weekend
Watch the Super Bowl
Super Bowl LII is just days away, and it's time to make your plans for the Big Game. Viewing parties are taking place at restaurants and bars all around the Las Vegas Valley. See the full listing of watch parties.
The Vince Lombardi trophy on display between the New England Patriots helmet, left, and the Philadelphia Eagles helmet at the Hilton Minneapolis ahead of Super Bowl 52 in Minneapolis, Minn., Wednesday, Jan. 31, 2018. Heidi Fang Las Vegas Review-Journal
Grab a bite
Super Bowl Sunday is an epic food day. Among the snacks we'll be devouring will be more than 8 million pounds of tortilla chips and 40 million pounds of avocados. For inspiration, here are some of the more interesting nachos being served in Southern Nevada.
Get a drink
No need to order snacks for the table when purchasing a pitcher of bloody marys at the new Gramercy restaurant, Kitchen Table Squared. Chef Javier Chavez throws in plenty of munchies with the garnish. All in all, not a bad deal for $20 (plus $5 apiece for extra shots of vodka). Learn how to re-create the Chef's Bloody Mary.
Rock out
2017 marked the first year that hip-hop supplanted rock and roll as the most popular form of music, with eight of the top 10 most-consumed artists all rap-based.
"It's a little scary out there," The Killers frontman Brandon Flowers acknowledged.
How have The Killers remained relevant as a rock and roll band, then? By rethinking what it means to be a rock and roll band. Their sold-out show is Saturday at the MGM Grand Garden Arena. Read more about The Killer's fifth record.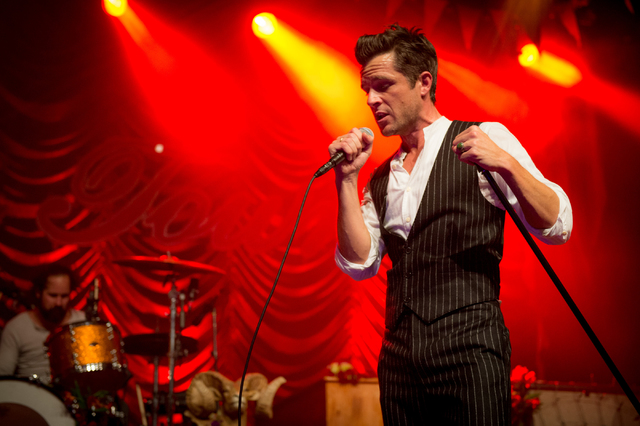 The Killers perform Friday at Sam's Town Live to celebrate the 10th anniversary of their sophomore album, "Sam's Town." (Courtesy Rob Loud)
See a show
Forget regret.
That's what the youthful bohemians of "Rent" sing in defiance of poverty, the political establishment, personal angst, looming doom. It's apt advice, especially when considering the 20th anniversary tour of the landmark musical, which continues at The Smith Center through Sunday. See the full review of "Rent" at The Smith Center.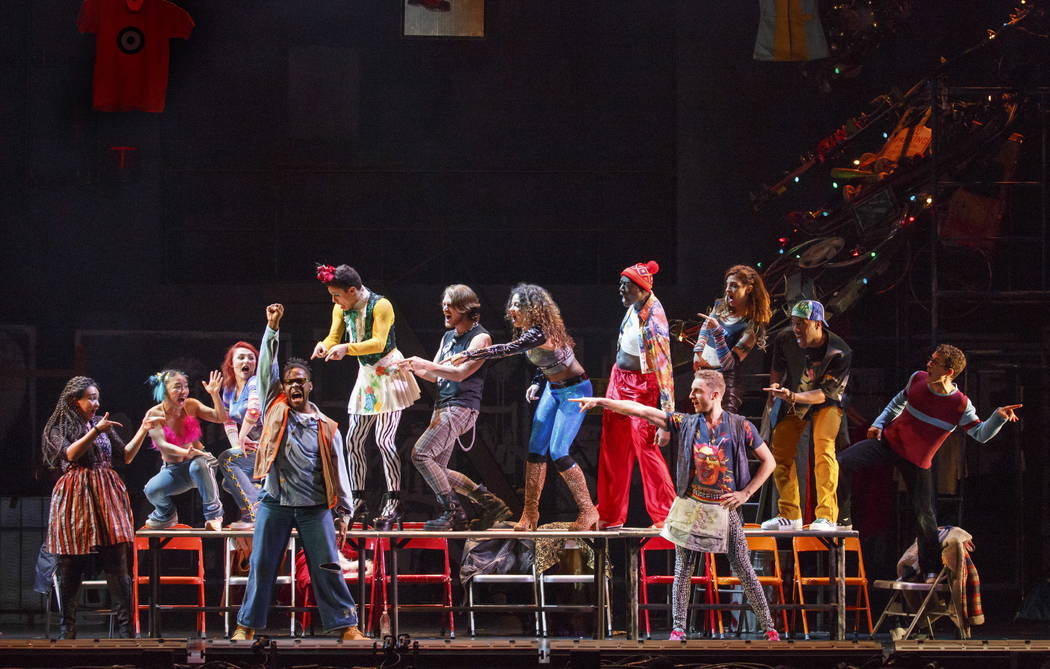 The cast of "Rent" at The Smith Center through Feb. 4 celebrates "La Vie Boheme." (Carol Rosegg)
Downtown
The city's new soccer team, Las Vegas Lights, will unveil their team jerseys from 5:30-7:30 p.m. Wednesday at the Zappos campus, 400 Stewart Ave. The whole team will be on hand, signing autographs and posing for photos, and season ticket holders will be able to pick up their free jerseys. See more downtown Las Vegas events.
The Las Vegas Lights FC soccer team logo during an event to lay the first pieces of turf at Cashman Field to help transition the stadium from a baseball to a soccer venue, in Las Vegas. Erik Verduzco Las Vegas Review-Journal
Gelatology
It's news that local dessert fans have been dreading for a while: Local gelato maker Desyree Alberganti is leaving town to be closer to her family. Fans, customers and friends will get a chance to bid her farewell and meet Gelatology's new owners at a party this Saturday from 1-11 p.m. at 7910 S. Rainbow Blvd. Find out more about Gelatology.
Wreck Room
Wreck Room is a new attraction near the intersection of Spring Mountain Road and Valley View Boulevard.
Customers rent one of four rooms for 30 minutes and can smash a variety of items with bats, clubs, crowbars and hockey sticks. Read more about Wreck Room.
Hot air balloon
Rainbow Ryders, the country's largest hot air balloon company, recently expanded to Las Vegas. They take locals and tourists high above Las Vegas on a journey that overlooks the Strip and dips into the canyons in the Blue Diamond area. Find out more about Rainbow Ryders.
Design Zone
"Design Zone" — the newly arrived touring exhibit at downtown's Discovery Children's Museum — finds the path connecting math and fun.
The 5,000-square-foot exhibit — divided into art, music and engineering areas — invites visitors to design two- and three-dimensional art, make music (and laser light patterns to accompany them) and even create virtual roller coasters and skate parks. See more about the new "Design Zone" exhibit.