10 best things to do in Las Vegas this week — Jan. 5-7
Grab a bite
New York's craziest shakes are coming to Las Vegas. And your Instagram feed better be ready.
Black Tap specializes in burgers and cocktails but their extravagant milkshakes are what has earned them a loyal following on social media.
The new restaurant at The Venetian offers standout dishes including the Cake Shake, which is topped with a heaping slice of Funfetti cake. Read more about Black Tap.
Get a drink
Palazzo's new bar Rosina currently has a classic mint julep on the menu, but also offers five "secret juleps" for those in the know. The smoky Banco de Mexico is made with anejo tequila and mezcal. Learn to make it yourself.
See a movie
Of the 10 highest-grossing films of 2017, six were superhero movies, one was another "Star Wars" and one was a live-action remake of a Disney animated tale.
So, to ensure a little variety, here's a look at 18 non-superhero movies to look forward to in 2018.
Downtown
Former punk princess and heavy metal goddess Lita Ford will perform at 8 p.m. Friday at the Showroom at Golden Nugget. Tickets start at $42 and change, and are available through goldennugget.com.
See more downtown Las Vegas events.
First Friday
A new year brings a new First Friday — and a new "Commitment," January's theme for the monthly downtown Arts District happening. In addition to displaying their works, January's two featured artists — LaRon Emcee and AROSE1 — will collaborate by painting live during the free 5-11 p.m. event. Read more about First Friday.
To kick off 2018, we're shining a bright light on the theme of COMMITMENT, as we're more committed than ever to continue bringing the Las Vegas community together every month around arts and culture. The first #FirstFridayLV of the new year is next week, January 5th! pic.twitter.com/dwxsGv4Frh

— First Friday LV (@FirstFridayLV) December 29, 2017
From Refuse to Reuse
One person's trash is another's artwork — at least for the eight artists participating in "From Refuse to Reuse," a newly opened exhibit.
The featured works represent everything from human torsos to whimsical creatures — human and otherwise. You can see it 7 a.m.-5:30 p.m. weekdays through March 22 at Las Vegas City Hall's Grand Gallery. See more about "From Refuse to Reuse."
Unicorn Grilled Cheese
Unicorns may be fictional — or not, depending on your point of view — but the Unicorn Grilled Cheese at Fiddlestix at the Gold Spike is the real deal.
A secret menu item, it's a melange of Swiss, provolone, mozzarella, Gouda and Havarti cheeses, all warm and melty on Pullman bread with the colors provided by sprinkles. It's $9.
In-N-Out
In-N-Out Burger has added its first menu item in more than 15 years, and it's perfectly timed for winter. Hot cocoa is now available at all of the chain's restaurants nationwide. The cocoa is Ghirardelli. And yes, it comes with marshmallows. Read more about the new menu item.
The new hot cocoa available at In-N-Out. In-N-Out
Food Junky
Food Junky's guerrilla-style operation serving downtown hipsters is a far cry from owner Maritza Purcell's early career. After attending Le Cordon Bleu in Maine, the Nevada native spent two years in Orlando cooking at high-end restaurants in Disney World. From there, she moved to Las Vegas, where she worked in the kitchens of acclaimed French chefs Joel Robuchon and Hubert Keller.
Most orders are ready to go within seven minutes of being received. Find Food Junky at Inspire Theater in downtown Las Vegas.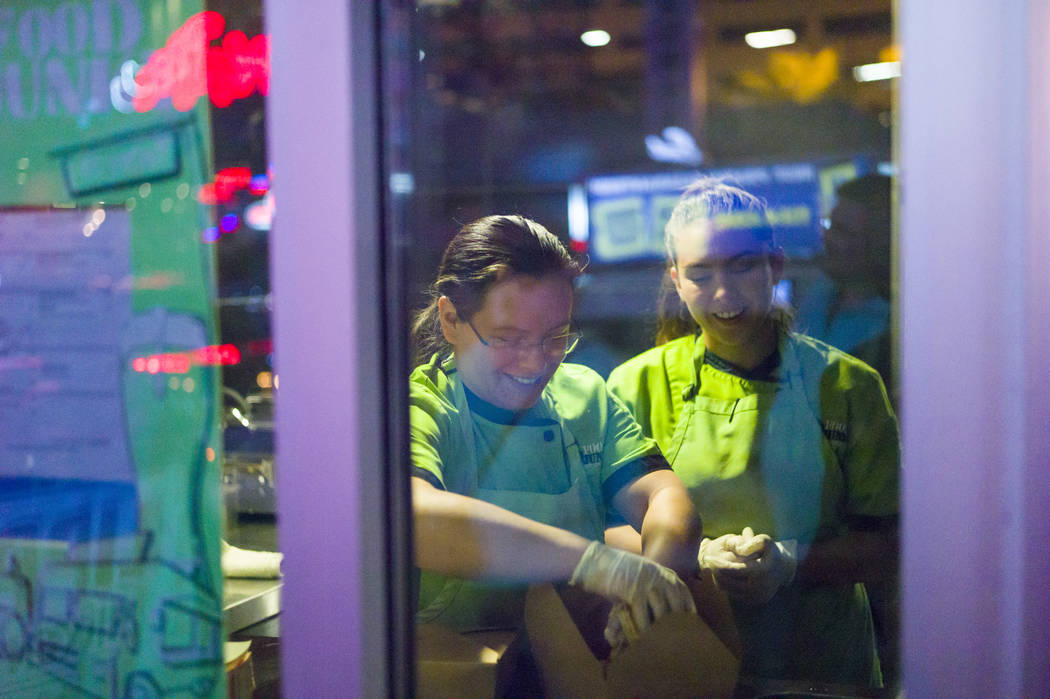 Chef Maritza Purcell, owner and operator of Food Junky, left, and sous chef Jaimie Fisher prepare a meal inside Inspire Theater in downtown Las Vegas on Friday, Dec. 29, 2017. Chase Stevens Las Vegas Review-Journal @c
Conveyor belt sushi
Las Vegas got its first conveyor-belt restaurant in 2016 with the arrival of Chubby Cattle, a Chinese hotpot spot on South Jones Boulevard.
Sapporo Revolving Sushi, which opened Dec. 4 on Spring Mountain Road, brings sushi to the conveyor-belt concept.
The conveyor belt travels by every table and has two tracks. The bottom track features regularly rotating dishes ($2.50 apiece), while the top track delivers items ordered via an iPad on the table. Find out more about Sapporo Revolving Sushi.