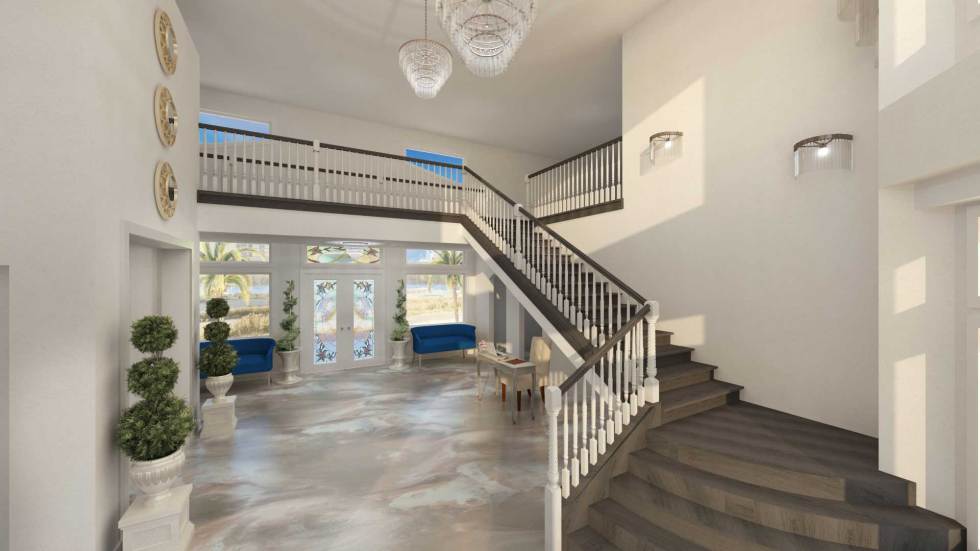 Luxurious Assisted Living Residence
The family of boxing referee Hall of Famer Joe Cortez has turned their former home in northwest Las Vegas into a luxury boutique assisted living residence.
Called La Mansion Luxurious Assisted Living Residence, it sits on a 5-acre private estate with a mountain backdrop in the northwest valley. The family transformed their 18,000-squarefoot home into 12 luxury suites that provide all-inclusive and exquisite accommodations with optimal care for individuals or senior couples, according to Sylvia Cortez, the founder and CEO.
The Cortez family moved into the newly completed estate in 2002 and customized it to address the needs of their daughter, Cindy, who was wheelchair-bound after an automobile accident and provide privacy and security. In 2017, they decided to move into a nearby home but instead of selling the estate opted for concierge assisted-living residence.
La Mansion has first-class amenities such as a cozy, relaxing wine and cocktail lounge, 20-seat movie theater with luxury seating, private dining room for family and friends, professional gym with juice bar, sauna and steam room and a creativity room with crafts and games, said Sandy Cortez, Sylvia's daughter, chief financial officer of La Mansion.
The estate has a pool and clubhouse, gardens and walking paths, raised herb, flower and vegetable gardens, putting green and boccie ball court.
La Mansion will provide 24-hour premier concierge service, which includes personalized resident care plans, world-class chef prepared healthy cuisine, pharmacy services and medication management, daily housekeeping and laundry services, town car transportation, salon and barber services. Hospital, shopping and restaurants are nearby.
"Our goal was to create the most elegant assisted-living setting for our residents that is unmatched to any other senior assistedliving community," Sandy Cortez said. "Our main goal is to keep a family environment and provide the best quality of care. Whatever they need, we will have available to them."
La Mansion is now open
La Mansion Luxurious – Assisted Living Residence
5930 N. El Capitan Way
Las Vegas, NV 89149
702.428.4232
Members of the editorial and news staff of the Las Vegas Review-Journal were not involved in the creation of this content.