D.R. Horton buys 43 lots in rural Nevada town for $1.5M
Updated June 14, 2018 - 7:55 pm
LOGANDALE ­— The Valley Heights subdivision here is a quiet place. It's mostly empty, and several vacant lots are overtaken by weeds.
But that hasn't stopped one of America's biggest homebuilders from wanting in on the action.
Texas-based D.R. Horton acquired 43 of Valley Heights' roughly 100 lots, property records indicate. The $1.5 million sale, by Elation Homes owner Ted Price, closed last month.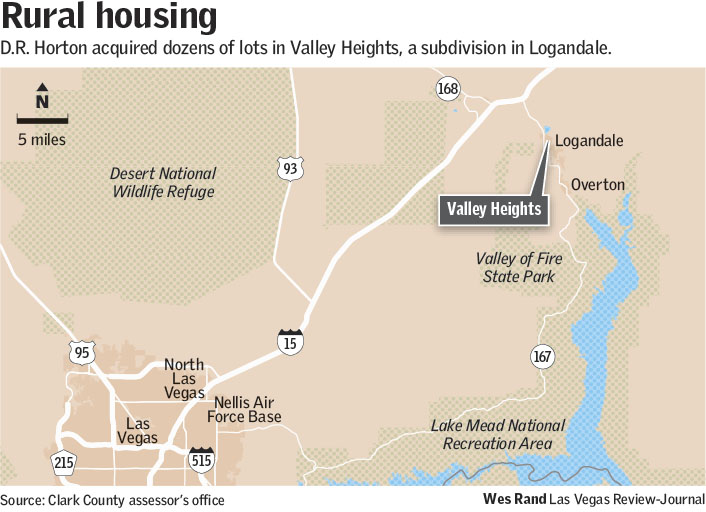 The purchase in Logandale comes amid rising land and house prices in the Las Vegas Valley and, according to one builder, an uptick in home construction in the Moapa Valley. But D.R. Horton seems to be going it alone, taking a subdivision in a small, rural town that is home to the Clark County Fair & Rodeo and that other big builders are ignoring.
"Logandale is not a major market. It never has been," Home Builders Research founder Dennis Smith said.
Valley Heights has around 20 houses, and locals say it's the only active, suburban-style housing development in the Moapa Valley, some 60 miles northeast of Las Vegas. The project was launched during the housing bubble last decade, and Foremost Realty co-owner Janet Marshall, a longtime Logandale resident, said D.R. Horton could finally "bring it to fruition."
D.R. Horton, Las Vegas' top-selling builder last year with more than 1,200 closings, is trying to "get a foothold in as many markets and submarkets" as it can, Smith said.
"I'm sure they'd be happy," if the company sold one house a month in Logandale, but even if the project flops, it's "not a huge loss," he said.
In the last fiscal year D.R. Horton earned $1 billion in profit and closed almost 300,000 sales, according to a securities filing.
"They can sit on those lots forever if they have to," Smith said.
'It's picking up here'
D.R. Horton's sign at the Whipple Avenue project — across from Elation's faded and peeling sign — advertises homes from 2,430 to 4,425 square feet ("Call now!" it proclaims), and its website describes Valley Heights as "a highly anticipated community of new houses."
Representatives of D.R. Horton did not respond to a request for comment.
Price bought the bulk of Valley Heights in 2012 for $1 million, and property records indicate he still owns several lots. He could not be reached for comment.
Local contractor Jason St. John, owner of SO Construction, figures 20 to 30 houses are being built in the Moapa Valley this year, "which doesn't sound like a lot to Vegas standards, but it's picking up out here."
The Moapa Valley had a population of 7,000 in 2010, according to the most recent U.S. Census Bureau figures. Clark County's population overall was 2.2 million as of last summer.
St. John said there wasn't much home construction in the Moapa Valley for some time after the recession clobbered Southern Nevada, and houses in Valley Heights haven't been "selling like hotcakes." But D.R. Horton has a bigger name than Elation and "deeper pockets," he said.
Still, Brian Seely, owner of Brimont Construction in neighboring Overton, said other large builders aren't launching projects there because they'd have to sell a handful of houses each month to warrant the investment. "I don't see the valley growing like that."
Overton has a small downtown area, and Seely said another three or four businesses closed in recent years.
"It's kind of like atrophy," he said.
Bubble buys
D.R. isn't the first national builder to buy land in Logandale, but others ventured here during the bubble years, when developers were snapping up property in small towns sprinkled outside Las Vegas for projects that, for the most part, never materialized.
Atlanta-based Beazer Homes bought 40 acres in Logandale in 2005, and Los Angeles-based KB Home bought 18 acres here the same year. Both properties are still open desert, and it's unclear what the builders plan to do with them.
KB spokesman Craig LeMessurier indicated this week he was trying to check with the Las Vegas division president about the land but had not heard back from him.
Beazer's Las Vegas marketing manager, Meghan Ramos, said "we aren't in a position to comment on it at this time."
Jessica Minogue, who lives in Valley Heights with her husband and four kids, said most of the residents are families with young children.
Valley Heights might have dozens of empty lots, but among those with houses, several are occupied by police officers, according to Minogue.
"So it's a safe neighborhood," she said.
Contact Eli Segall at esegall@reviewjournal.com or 702-383-0342. Follow @eli_segall on Twitter.