San Francisco firm buys 5 office buildings in Henderson
Updated June 29, 2018 - 10:27 pm
In its latest sell-off, a longtime Las Vegas Valley developer has unloaded another crop of commercial real estate.
American Nevada Co. sold five office buildings in Henderson to San Francisco-based JMA Ventures for $51.75 million, property records show. The sale closed June 22.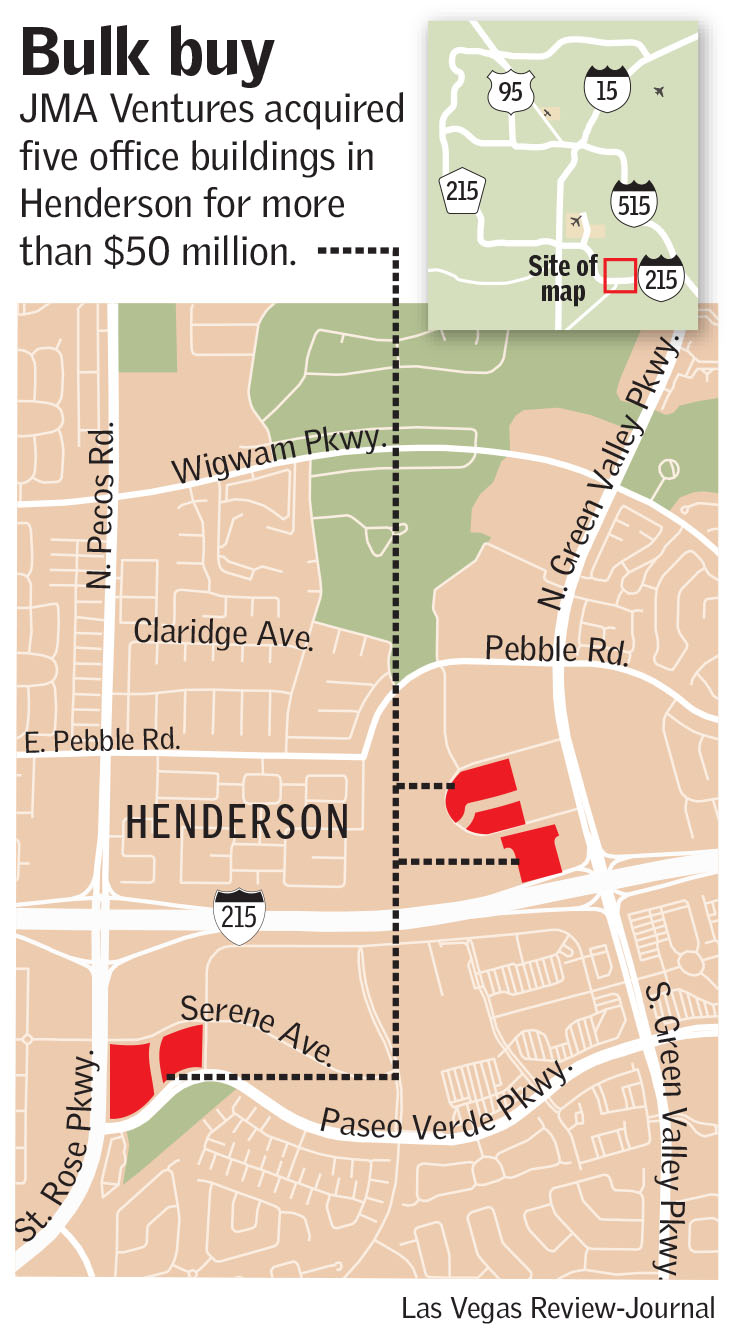 The bulk deal comes as Las Vegas' once-pummeled office market continues to gain strength and follows a year in which investors bought a burst of buildings in Southern Nevada.
JMA's newest holdings are at 2275, 2285 and 2370 Corporate Circle and 2500 and 2550 Paseo Verde Parkway. The combined occupancy rate is in the 80-90 percent range, and tenants include the Las Vegas Sun.
Todd Chapman, JMA's president and CEO, said he plans to reinvest in the buildings and try to sign tenants that may not have a presence in the valley.
He also pointed to the lack of new office space being built, as office construction is not nearly as robust in Southern Nevada as, say, warehouse or apartment development.
"We're excited," Chapman said.
American Nevada has sold several other properties in Henderson's Green Valley area the past few years, including a four-building office portfolio for $27.8 million this month; Barclaycard's two-building call center for $24 million last October; a retail center for $21.5 million last September; and an office building, to JMA, for $13.15 million last August.
Overall, American Nevada has sold most of its office buildings but still owns plenty of real estate and is pursuing new projects, including apartment complexes and an assisted living facility, Chairman and CEO Paul Hamilton said.
Launched in the 1970s by the late Las Vegas Sun publisher Hank Greenspun and his late wife, Barbara, American Nevada is perhaps best known for developing the Green Valley master-planned community.
The Sun is based on the third floor of 2275 Corporate Circle. Hamilton said the paper — which is distributed in the Las Vegas Review-Journal as part of a joint operating agreement — would not be affected by the building's sale.
Las Vegas Sun owner Brian Greenspun did not respond to a request for comment.
Developers flooded Las Vegas with office buildings during the bubble years of the last decade, but after the market crashed, properties emptied amid soaring job losses.
The valley's office vacancy rate is still well above pre-recession levels but has come down as the economy picks up and job rolls grow. Investors bought 94 office properties last year, more than double 2016's tally, according to brokerage Colliers International.
Cushman &Wakefield broker Brad Tecca, who represented American Nevada in the JMA sale, said Las Vegas is "the last market to recover from the Great Recession … but there's a lot of interest."
He noted the economy, while still heavily dependent on tourism, is diversifying, and that compared to other Western U.S. markets, "your money just goes a lot further" when buying office buildings in Southern Nevada.
He also agreed that the limited development helps landlords. Construction financing "is just not there" for Las Vegas office projects, he said, adding the market crash is still "really fresh on everyone's mind."
"Everybody remembers it," he said. "It was painful."
Contact Eli Segall at esegall@reviewjournal.com or 702-383-0342. Follow @eli_segall on Twitter.