10 best things to do in Las Vegas this weekend — Jan. 12-14
Grab a bite
Lucky Penny is not your father's coffee shop. The Waffle-Grilled Cheese uses a blend of cheddar, Swiss, Parmesan and Monterey jack, some of them contributing assertive flavors, others optimal meltability, the sum of the parts delivering layers of warm, gooey flavor. Read the full review of Lucky Penny.
Waffle-grilled cheese with cheddar, swiss, parmesan, monterey jack and tomato soup at Lucky Penny in Las Vegas. Benjamin Hager Las Vegas Review-Journal
Get a drink
Esther's Kitchen's Sonia Stelea uses Borsci Amaro to provide hints of cola and chocolate that go beyond the liqueur's expected bitter notes. But the real surprise is how the bubbles bring all of the sugars to the surface, rising above the more savory base flavors. Learn how to make the bubbly pino.
Rock out
His eyes adored us. Yet it's our ears that adored him back — especially when those startlingly supple pipes climbed to the cruising altitude of a 747. "I thought everybody could do that," says 83-year-old Frankie Valli of that famed falsetto that also declared that big girls don't cry-yi-yi,that instructed you to walk like a man my so-o-o-on, that begged us tostay-yay just a little bit loooonger, that insisted iiiiii-IIIIII-iiiii've got you under my skin. See Frankie Valli & The Four Seasons Friday and Saturday night at Park Theater at Monte Carlo. See more about Frankie Valli.
Frankie Valli performs at the "American Idol" finale at the Nokia Theatre at L.A. Live in Los Angeles. (Matt Sayles/Invision/AP, File)
See a show
For Natalia Stratton, "Follow Your Heart" is more than a title — it's a way of life.
The 23-year-old Las Vegas native is part of the ensemble featured in the Disney on Ice tour "Follow Your Heart," which skates into UNLV's Thomas & Mack Center on Thursday for a four-day run. See "Disney on Ice: Follow Your Heart" Thursday through Sunday. Find out more about the Las Vegas local's debut in "Disney on Ice."
Disney on Ice's "Follow Your Heart."
Catch a movie
You wouldn't expect a movie that relies on pay phones, typewriters and Linotype to be the timeliest entry of the awards season.
It's certainly the Time's Up-iest.
Despite being set in 1971, "The Post" manages to feel ripped from the headlines, thanks to its president waging an unprecedented war against the media and its female protagonist finally standing up for herself after years of being told she didn't belong.
Read the full review of "The Post."
Downtown
Artifice, at 1025 1st St., will host a Cosplay Prom, '80s edition, beginning at 7 p.m. Friday. Guests can dance the night away to hits from the '80s while decked out in their best cosplay, with proceeds going to The Center.
Discover more downtown Las Vegas events.
Hell's Kitchen
With the new Hell's Kitchen restaurant, Ramsay and his team have re-created the Hell's Kitchen TV experience. "Walking into (the restaurant) for the first time is like mirroring the set from L.A.," Ramsay said.
The kitchen staff is divided into two teams, red and blue, each working on its own side of the large, open kitchen. Each team is responsible for different cooking stations, and several menu items will be familiar to regular viewers. Visit Hell's Kitchen at Caesar's Palace.
Celebrity chef Gordon Ramsay interacts with staff at his new Strip restaurant Hell's Kitchen on Sunday, January 7, 2018, at Caesars Palace hotel-casino, in Las Vegas. Benjamin Hager Las Vegas Review-Journal
Donate blood
Las Vegans who donate blood at one of three United Blood Services centers in the valley can get a free ticket to a Brooklyn Bowl show of their choice, the organizations said in a statement Wednesday.
Those interested in donating blood can make an appointment by calling 1-877-827-4376 or visiting bloodhero.com. Find out more about donating blood.
Robin Aiello donates blood at United Blood Services in Las Vegas Monday, Oct. 2, 2017, following a shooting on the Strip that left 59 dead and over 500 injured Sunday night. Bridget Bennett Las Vegas Review-Journal
Alibi
"Alibi Las Vegas" is a weekly, kooky combo platter of downtown walking tour/interactive scavenger hunt/restaurant crawl/detective challenge/street-side improv/joie de vivre soiree. Which is to say: a Vegas show that wouldn't be caught dead in a Vegas showroom. Play "Alibi" on Saturdays in downtown Las Vegas. Learn more about "Alibi Las Vegas."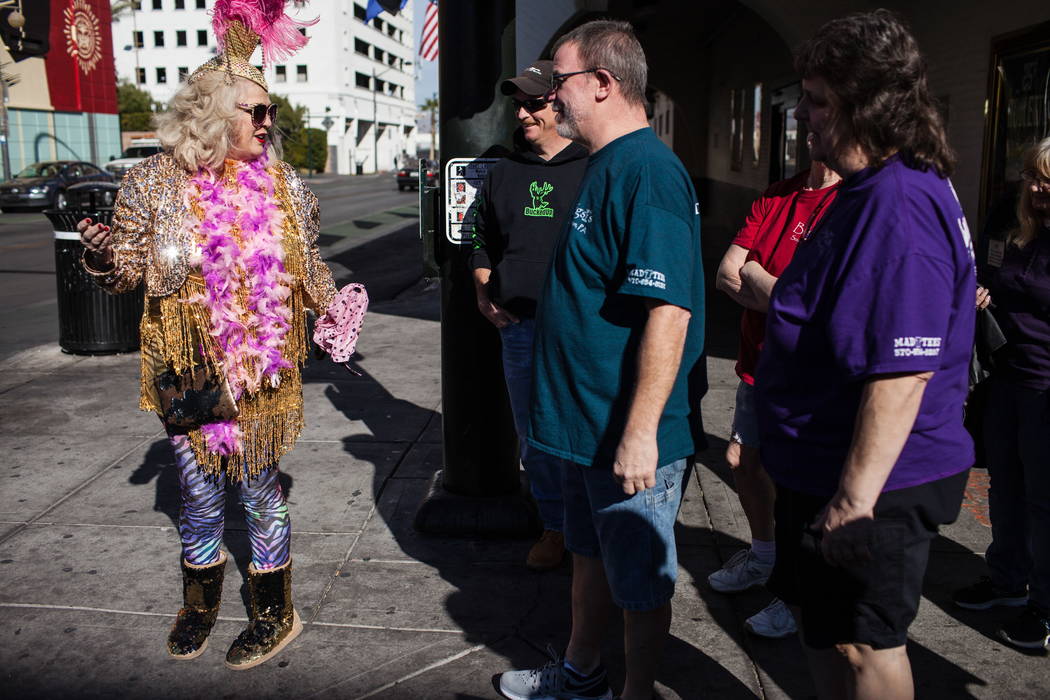 Penny "Cuddles" Wiggins of Las Vegas, 56, left, leads a group down Fremont Street during the Alibi Las Vegas in Las Vegas, Saturday, Dec. 30, 2017. Joel Angel Juarez Las Vegas Review-Journal
Adventure Park
Fox Hill Park, Summerlin's newest park, has been getting plenty of visitors since opening in mid-December.
The "adventure play-themed" park offers 20 play structures, including a 32-foot climbing tower, a zip line, a giant climbing structure called the Orange Beast, a disc golf course, custom swings, a climbing fort and a spinning machine.
See more photos of the new park.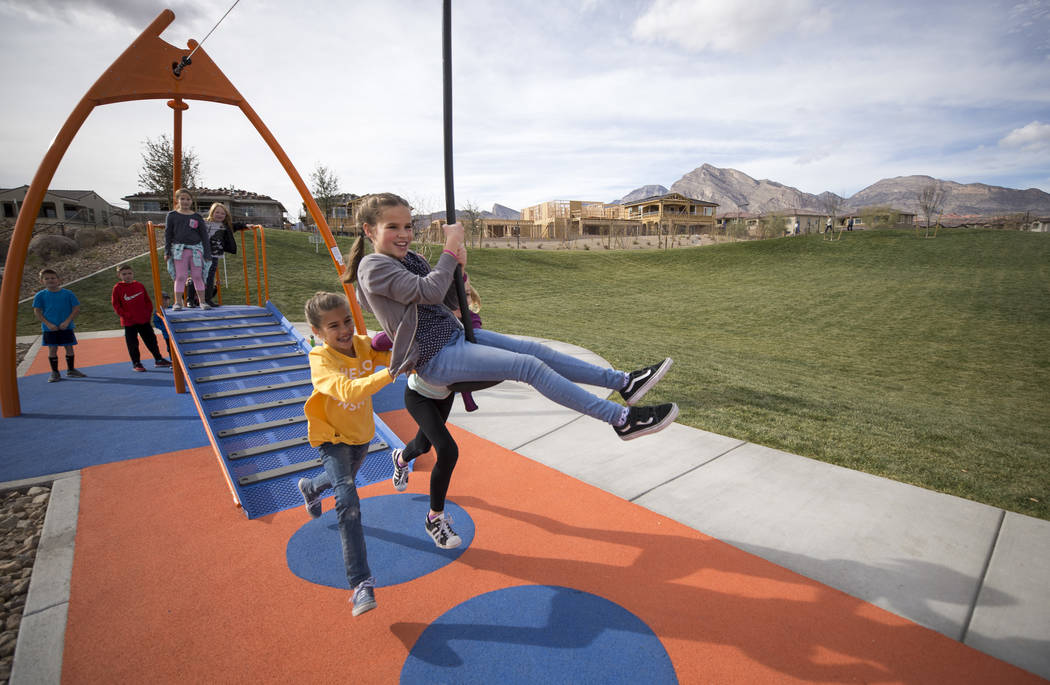 Children play on one of two zip lines at Summerlin's Fox Hill Park in The Paseos village neighborhood, Saturday, Jan. 6, 2018, in Las Vegas. Richard Brian Las Vegas Review-Journal