Your digital assistant could be a better student
At my last newspaper, I gave tours of the press. Whenever someone asked a tough question, I'd try to find the answer for them. What I wouldn't do is apologize and forget about it.
Yet that's exactly what our digital assistants – Alexa, Cortana, et al. – do.
When our virtual assistants don't know an answer, they don't want to learn – not from us, anyway. Despite being in our own homes and pockets, our assistants' knowledge base comes chiefly from their cloudy overlords. The tech giants are no doubt collecting data on the most asked queries, but before assistants become omniscient, they should be teachable. Here are two ways tech companies can fix that: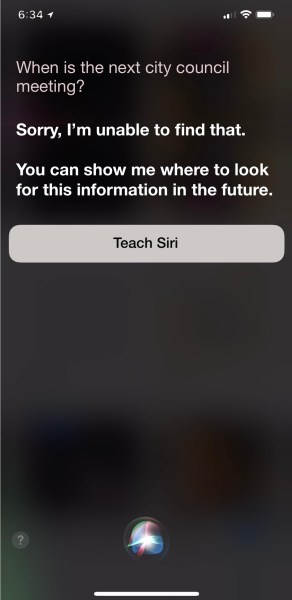 1. Let us show assistants where to seek answers
For instance, if you ask Siri, "What's the top performing story on my site?" or "What are the specials at Red Lobster?", she could respond, "Sorry, I'm unable to find that. Can you show me where to look?"
Respond in the affirmative and a "recording" screen could monitor where you go to find the answer, then allow you to circle the part of the webpage or app Siri should check next time you ask. Digital assistants without a display could ask you to guide them from your paired smartphone.
If enough people in a demographic seek information from the same spot, the data could be drafted into Siri's general knowledge.
Amazon recently debuted a similar feature called Skill Blueprints. It lets you enter custom questions and answers online for your Echo – but the information is static and never enters Alexa's public brain.
2. Let us show assistants how to parrot tasks
The title, author, category, and headline of each of my blog posts gets listed on a company spreadsheet. Imagine if we could ask Siri, "Add this to the spreadsheet," and she responded, "Can you show me how?"
Another "recording" atmosphere could let the computer watch the fields I fill and where the information comes from to try to parrot that task in the future.
Apple offers a similar tool (Automator) on Macs, but the company has let it flounder in recent years – and with good reason. Automator is Gordian, the antithesis of Apple's focus on simplicity. Also, it's not that smart and works only with certain apps. It can't replicate every action, let alone understand the mission.
Recorded workflows could be stored on a list that would allow us to make edits by scrolling forward or backward through an interactive video of the A.I.'s actions. Users could pause at any step and tap buttons within the screen recording to make adjustments as needed, like changing an export from JPG to PDF.
Of course, websites and apps occasionally change and our assistant may need help again. Any learning, however, is a start. For A.I. to be truly efficacious, it must be able to learn from those who use it.
Send your questions and feedback to hkeely@reviewjournal.com and follow me on Twitter: @HarrisonKeely.